The BLAST Premier Spring Series 2020 kicked off this weekend with the world's top teams competing for a piece of the coveted $300,000 prize pool. While Team Liquid's Russel "Twistzz" Van Dulken matched up against FaZe in a BO3, his ex-girlfriend Emma "Emy" Choe took to social media accusing him of being unfaithful to her.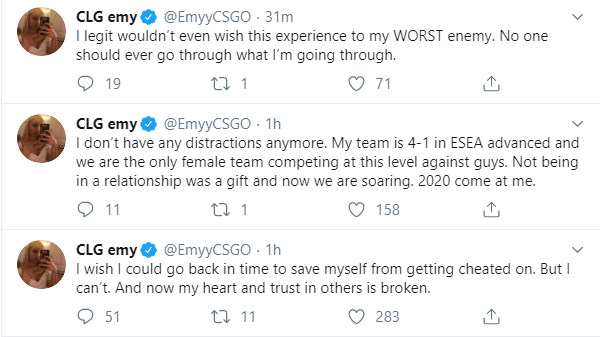 Twistzz and Emy
The pair began dating almost two years ago in 2018, and were one of the most beloved couples in CSGO. Both being competitive CSGO players in the public eye, it seemed like the two made a good fit for each other.
https://twitter.com/EmyyCSGO/status/1161038591926996992?s=20
However, recent posts from Emy beginning in late December hinted their relationship had ended. Besides that, they both removed each other's handles from their bio section.
Life goes on.

— 고독한 (@EmyyCSGO) December 31, 2019
Neither player officially announced the end of their relationship. Twistzz hadn't commented at all and was relatively quiet on social media.
The tipping point
At the start of BLAST, footage of Twistzz and an ESL associate holding hands from the organization's live stream began circulating.
So what was this then? Lmao pic.twitter.com/53MZSCi8MO

— SteveMVz (@SteveMVz) February 2, 2020
The clip came as a surprise to many. Auguste "Semmler" Massonnat, famous CSGO caster, gasped as Twistzz attempted to hold the person's hand.
Exact details surrounding Emy and Twistzz break up aren't public. Therefore, it's irresponsible to suggest the video is evidence that Twistzz had been unfaithful. As far as anyone could tell, the couple hadn't been together for at least a month.
Emy's tweets imply a few situations. The first situation being Twistzz cheated on Emy with this individual sometime ago, and it's the reason they broke up. Secondly, the couple attempted to rekindle their relationship, and during this period, Emy found Twistzz had committed to someone else.
Twistzz opens up
Shortly after Emy's tweets (now deleted), Twistzz defended himself through Twitter:
Many ran to the player's side during the exchange. Owen "smooya" Butterfield, CSGO player for Chaos EC, took to his colleague's defense and commented on the situation:
Twistzz's mom, Julie Will, also got involved.
The aftermath
Emy is aware of the mess the duo created for themselves. Despite this, she followed up by announcing she has "screenshots." Adding fuel to the flame, she implies that she's willing to release the evidence she reportedly has against the CSGO player.
Emy and Twistzz have since deleted all tweets regarding the situation. As of today, neither side have released further statements.