It seems as though Epic Games has spared no expense when it comes to releasing and planning new content for Fortnite Season 2. So far, we've seen introductions of NPCs, Mythic Weapons, game-changing items like the Decoy Grenade, and much more. However, it may be what's not in the game currently that has fans most nervous and excited. As you can see from the image above, it looks like helicopters will be a part of Season 2. Though, if the image wasn't enough, data-miners have found proof of their arrival in Fortnite's files.
When are Helicopters arriving in Fortnite?
Before Season 2 launched, we saw proof that helicopters would release in some capacity. In one of the teaser images from Epic Games, we could see a Helipad along with an actual helicopter. So, the community knew this was a possibility before the season released earlier today.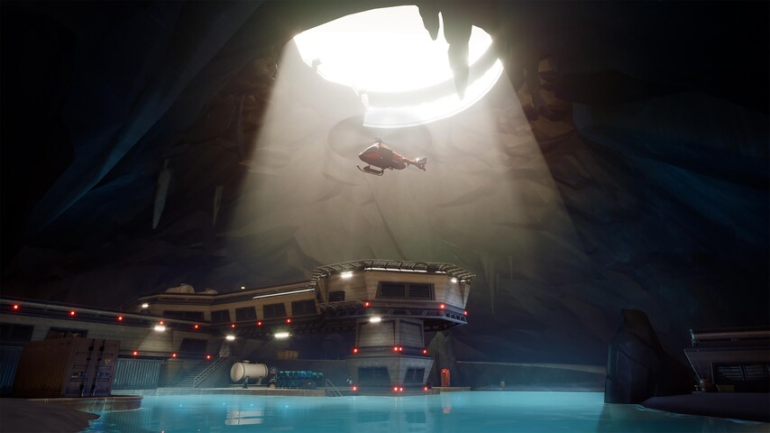 However, we then saw the cinematic trailer for Season 2 and it confirmed our suspicions. In many of the new locations, like The Agency, we can see helicopters flying above. Although, when players hopped into their first match, no such flying vehicles could be found.
Most likely, Epic Games didn't have time to release the choppers into Fortnite. After such a lengthy delay for Season 2, it's likely the developers didn't want to push back the start date any longer. So, we'll probably see the introduction of helicopters within the next couple of updates. Data-miner @HYPEX confirms this for us.
Oh Boy, i found proof for the helicopters!!!

— HYPEX (@HYPEX) February 20, 2020
Of course, we still don't know how exactly the helicopters will work. Season 1 lacked any mobility so flying around the map could be a great change of pace. However, Epic Games must be careful with how they design the helicopters. We're sure they don't want another Season 7 airplane debacle on their hands.
Make sure to keep up with Daily Esports for all Fortnite news.