Every so often, Call of Duty: Warzone players will stumble upon a weapon that turns out to be an absolute monster. There haven't been too many instances of this in Season 3 but one dark horse weapon has recently become increasingly popular. The gun in question is the M60 light machine gun from Black Ops Cold War, and it may not be in the background for long.
The M60 has been overshadowed by its LMG counterparts since Cold War and Warzone's integration. Either the Bruen MK9 or Stoner 63 have had the distinction of the best LMG in the battle royale. However, the tide on this front is quickly turning as players discover that the M60's top loadout is deadly.
Best M60 loadout in Warzone
In recent weeks, the M60 has seen a spike in use because popular Twitch streamers have equipped it more and more. However, it was Aydan "Aydan" Conrad who recently popularized the weapon's top loadout. He dropped a whopping 48 kills using the loadout and, as a result, this loadout spread like wildfire.
There's not much to change in regard to Aydan's M60 loadout. It focuses on three key areas: increasing the weapon's mobility, damage range and accuracy. Even if players don't enjoy using LMGs, this loadout might change a few minds.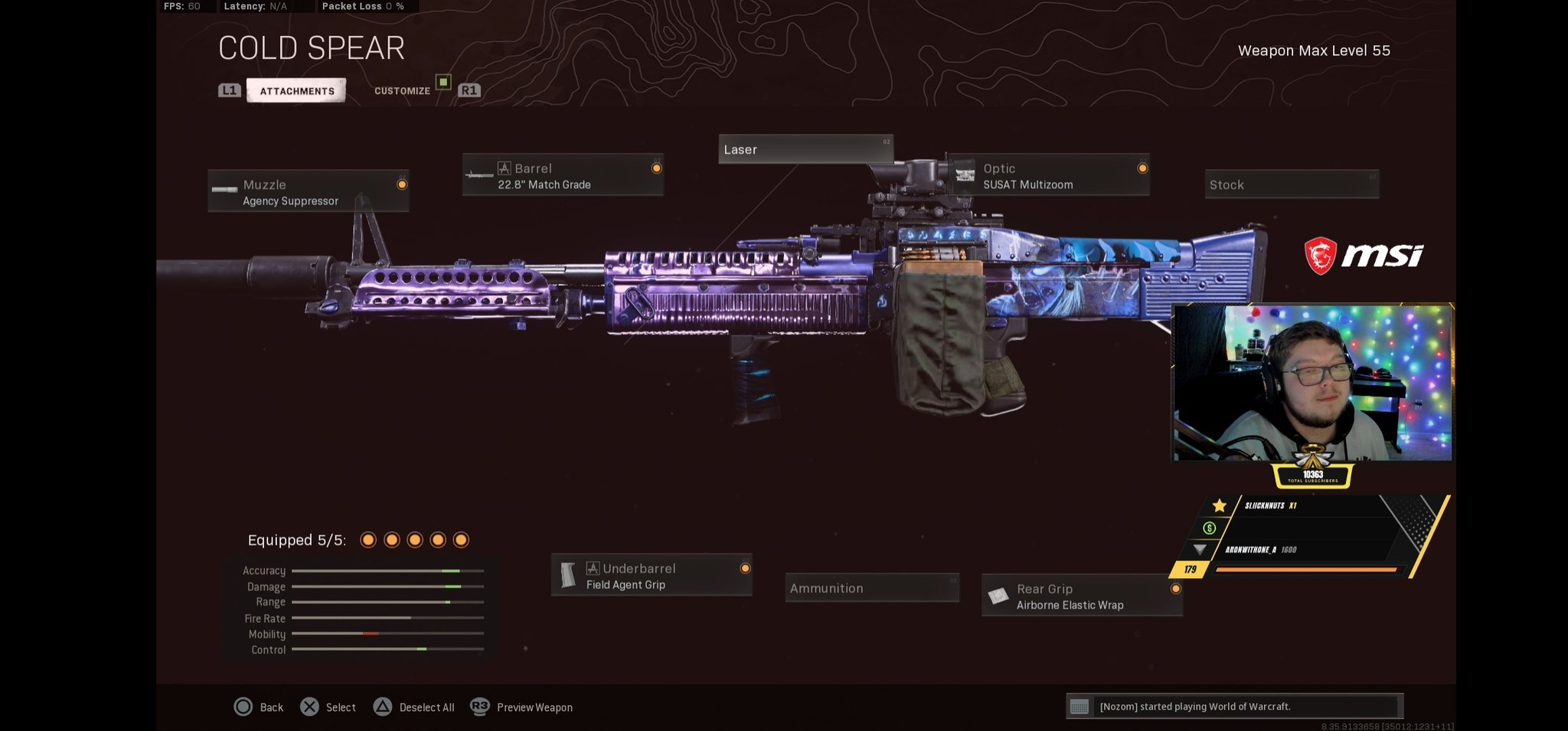 Muzzle: Agency Suppressor
Barrel: 22.8″ Match Grade
Optic: SUSAT Multizoom
Underbarrel: Field Agent Grip
Rear Grip: Airborne Elastic Wrap
The M60's sluggish movement isn't immediately addressed in this loadout but its sprint-to-fire time is dramatically increased with the Airborne Elastic Wrap. So, players can't run faster but they can bring the LMG up much quicker. This loadout also makes use of the 22.8″ Match Grade barrel, which increases damage range by 100%.
Finally, to help with recoil management, the Agency Suppressor and Field Agent Grip are equipped. Players won't need to adjust their aim much with this M60, which only adds to the enjoyment of using it in Warzone. Twitch streamers are dominating with this loadout and the general player base needs to get in on the action.